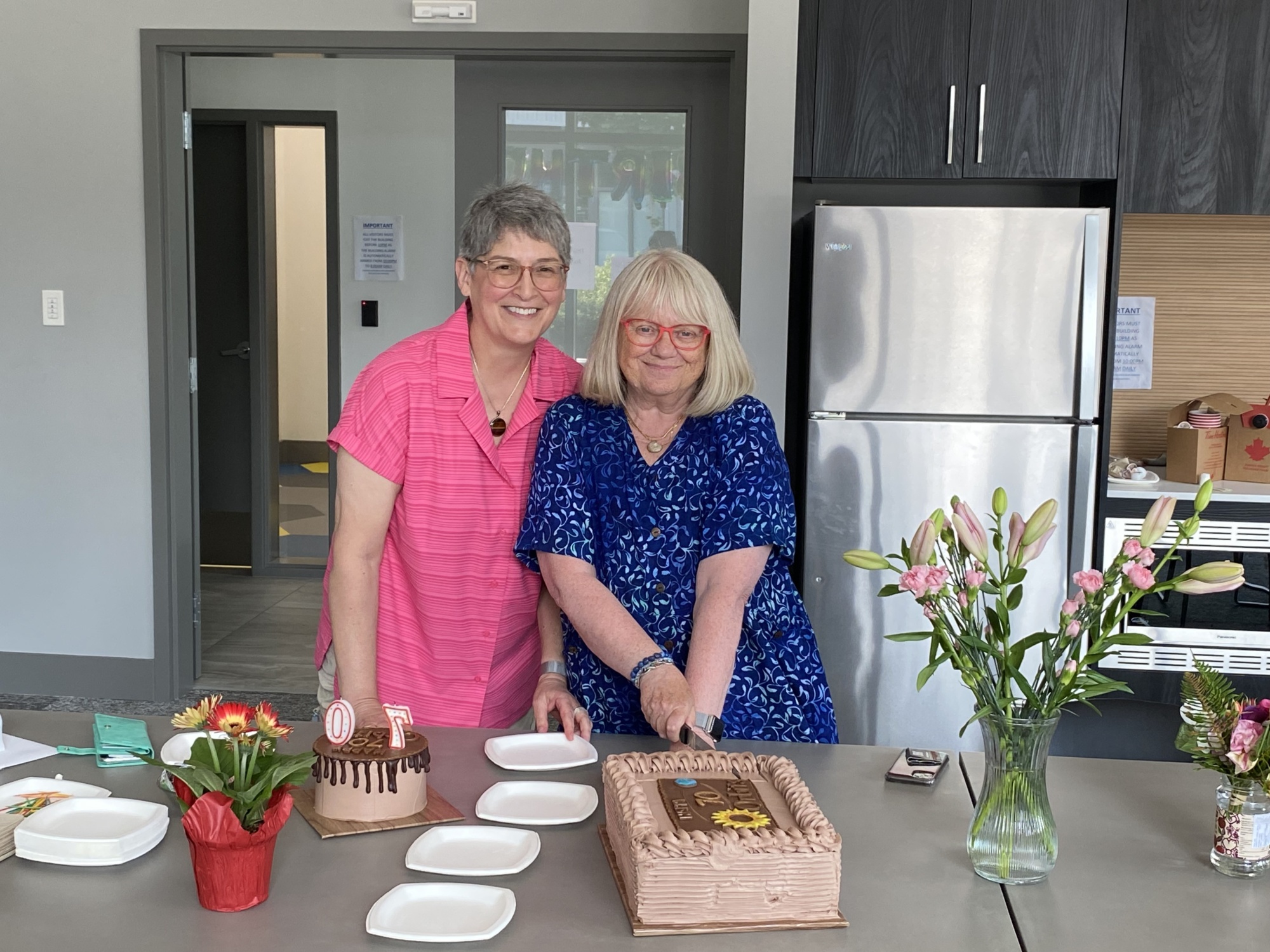 It was science that got me here but it was a total mystery how it happened so fast. On July 3, 2023, I celebrated 70 orbits around the Sun. 70!! How did that even happen? Today I'm on my way to 71, so I thought it would be a good time to tell all about my special day last Monday.

Eileen picked up the cake at 10 am… wait a minute… cake?! I had a birthday cake for the very first time since I was sixteen! And there was a party to go along with that most beautiful chocolate cake. It was a coffee and cake party at 3 pm. A party? How does this magic even happen?


A couple of weeks ago we decided to go for it, to have a party to celebrate 70 orbits and, imho, just to have a party. Eileen said go and there were several things to get done, not only on the day of the party but also before the big day. We booked the Belmont Club, a common space shared among the condo owners on the street. I made an invitation and mailed it out to those on our shortlist, in other words, our new neighbours and my computer buddies. I had a well-laid plan to post the invitation to friends on Facebook (where most of my friends live) but we struggled over the soundness of that idea, well Eileen struggled and I waited until the last minute when there was no time to do anything let alone posting on FB.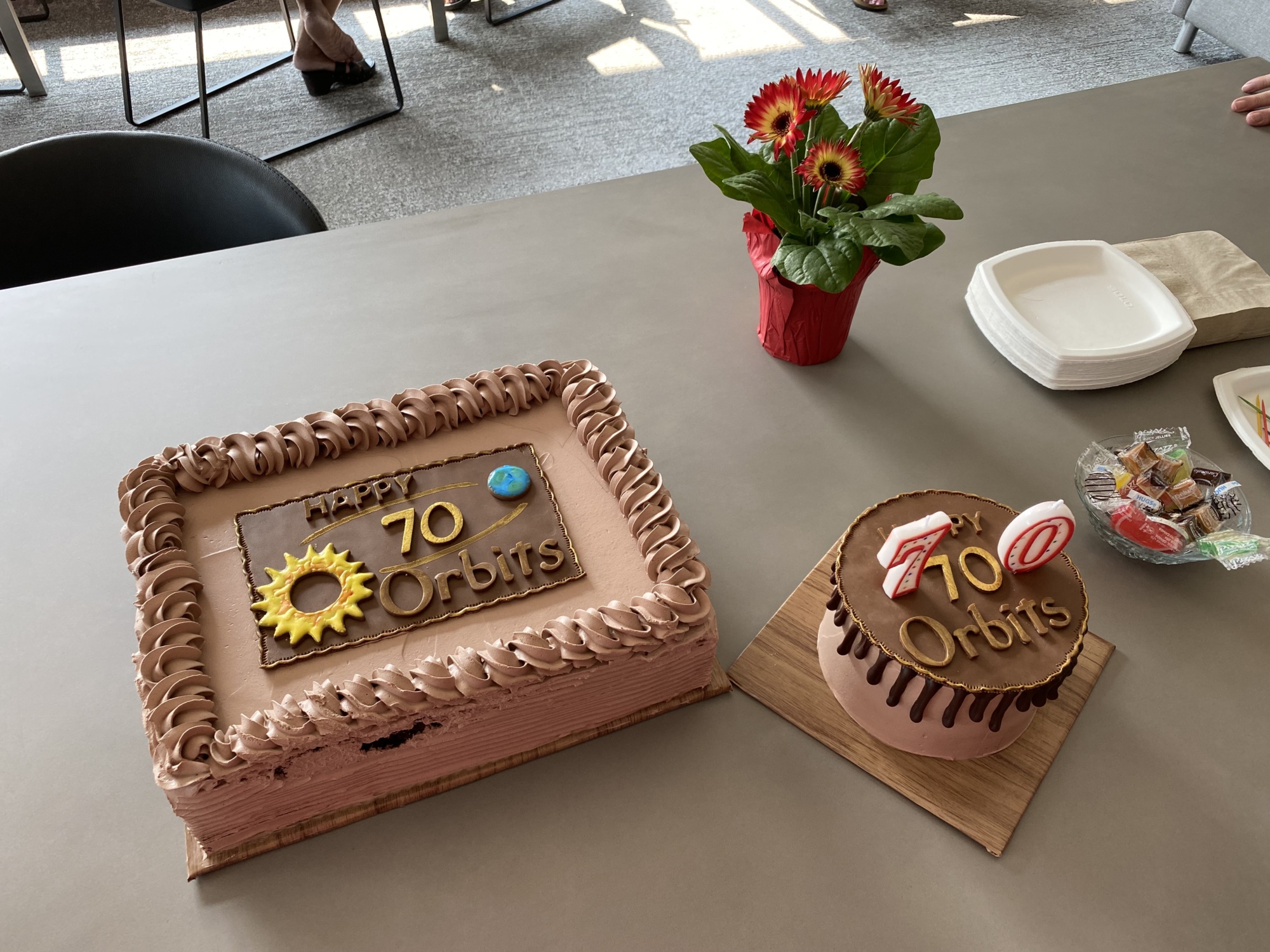 Babka House supplied two cakes. One upon which to blow out the candles and one for my guests to eat. They were delicious. We decorated the club with fresh flowers and Dollar Store balloons. We had loads of coffee from Tim Hortons and seven different types of tea from our private stash. Also on the big table were a fruit tray and a veggie platter, candies and Janet's most perfect ginger snap cookies. Chapmans Tahitian Vanilla ice cream came out of the freezer. Yum. Wasn't that a party!

And a week before the party Eileen suggested it might be a good idea to develop a slide show with some of my ancient pictures. Challenge accepted. After a week of doing nothing else, I think I came up with something rather good. Very likely this project was as much for me as it was for my partygoers, but I think they enjoyed it too. If you feel like having a look here it is. Just a thought… get a cup of coffee because the video is 15 minutes long. https://codyg.ca/images/video/70orbits.mp4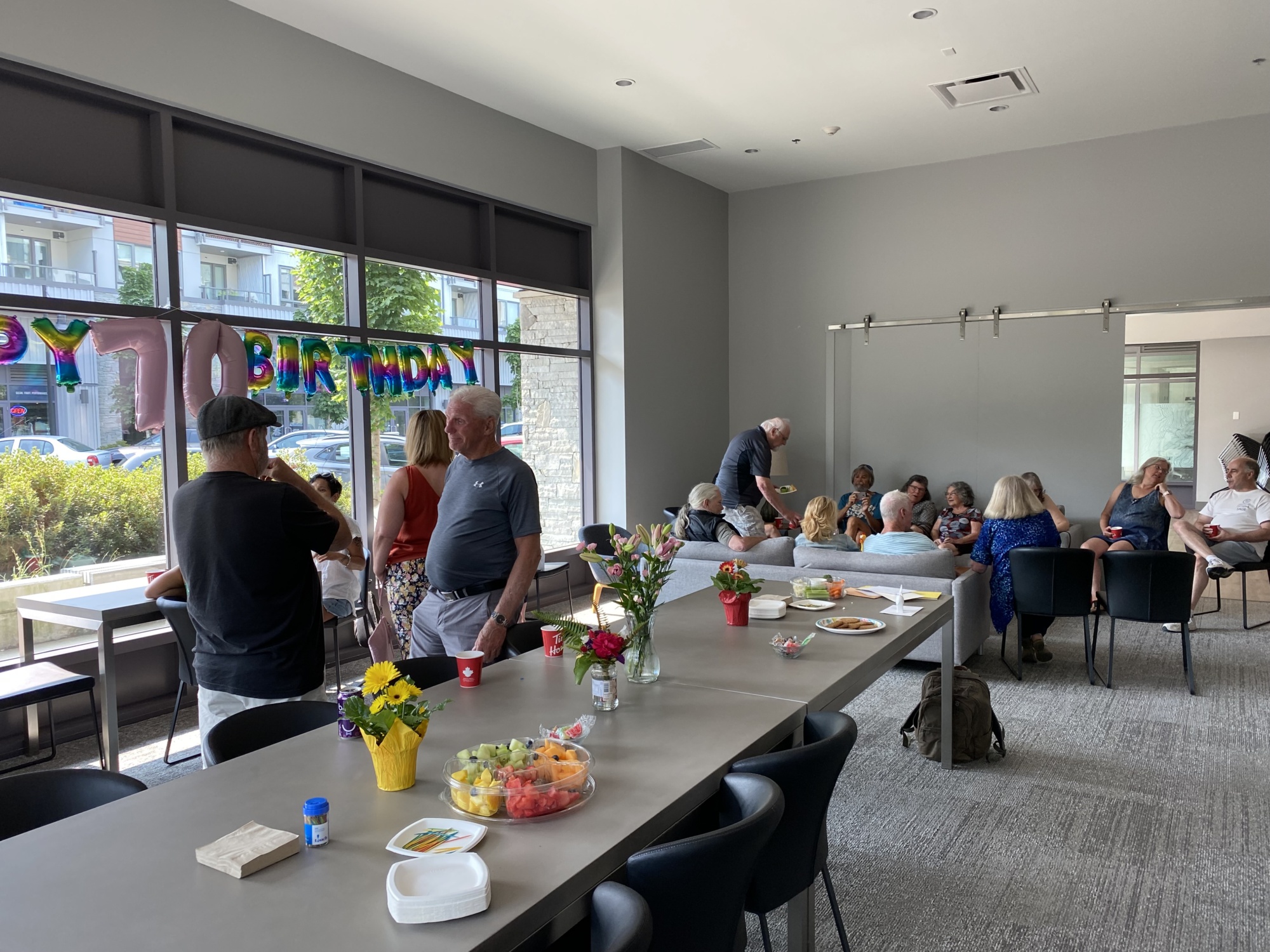 The music playlist looked like this:
Time – The Alan Parsons Project
Lovers in A Dangerous Time – Barenaked Ladies
The Long and Winding Road – The Beatles
The Fool On the Hill – The Beatles
Don't Let It Show – The Alan Parsons Project
In My Life – The Beatles
Trains and Boats and Planes – Billy J Kramer
Nowhere to Run – Martha Reeves
Don't Let the Sun Catch You Crying – Gerry & the Pacemakers
She's Leaving Home – The Beatles
Nightshift – The Commodores
Cats in the Cradle – Harry Chapin
Carry On – Crosby, Stills, Nash and Young
Nowhere Man – The Beatles
Hotel California – Eagles
Piece of My Heart – Janis Joplin
My Back Pages – The Byrds
Do You Wanna Dance – The Mamas and Papas
Runnin' Blue – The Doors
Tears in Heaven – Eric Clapton
Bitter Green – Gordon Lightfoot
Runaway – Del Shannon
Cherish – Kool and the Gang
Pussywillows, Cat-Tails – Gordon Lightfoot
You Make Me – Leo Sayer
The Logical Song – Supertramp
New Kid in Town – Eagles
Carefree Highway – Gordon Lightfoot
A Hazy Shade of Winter – Simon and Garfunkel
Mambo Italiano – Bette Midler
From a Window- Billy J Kramer
You Don't Own Me – Lesley Gore
The Lady in Red – Chris de Burgh
Wooden Ships – Crosby, Stills, Nash and Young
Penny Lane – Beatles
Private Dancer – Tina Turner
Heart of Glass – Blondie
Tangled Up In Blue – Bob Dylan
Thank You – ABBA
Phantasmagoria – Curved Air
All Through the Night – Cyndi Lauper
Let's Dance – David Bowie
Didn't I – The Delfonics
Fantasy – Earth, Wind and Fire
Rocket Man – Elton John
Dreams – Fleetwood Mac
Songbird – Fleetwood Mac
Bitter Green – Gordon Lightfoot
Summertime – Janis Joplin
Watching the Wheels – John Lennon
Dust in the Wind – Kansas
Eli's Comin- Laura Nyro
Stoney End – Laura Nyro
So Long, Marianne – Leonard Cohen
Dance Me Til the End of Time – Leonard Cohen
You'll Never Know – Lou Rawls
Nowhere to Hide – Martha Reeves
The Sound of Silence – Simon & Garfunkel
Homeward – Simon & Garfunkel
Land Ho – Supertramp
I Saw the Light – Todd Rundgren
Moondance – Van Morrison
Nightshift – The Commodores
Tears of a Clown – The Miracles
You Make Me Feel Like Dancing – Leo Sayer