April 20th, 2007
H.R. MacMillan
Science Centre
Vancouver, B.C.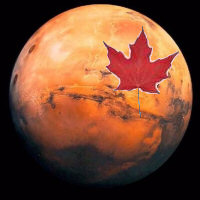 The Maple Leaf on Mars!
Canada will land on the surface of another planet for the first time when Phoenix, an international mission to Mars, touches down in 2008. Slated for launch on August 3, 2007, Phoenix will dig beneath Mars's surface in search of ice – in search of life. Two Canadian instruments on board Phoenix will study Mars's weather and climate to pave the way for future exploration missions.
Join the Canadian Space Agency's Dr. Victoria Hipkin at the H.R. MacMillan Science Centre at 7:30 p.m. on Friday, April 20, 2007, for a special presentation on this exciting mission. Try a space science experiment at the Canadian Space Agency's information booth. Learn everything you ever wanted to know about the Red Planet, and why the world's scientists want to explore it.
The Phoenix mission is led by the University of Arizona, with Canadian expertise from a wide range of partners in universities and industry from many regions of the country: York University, the University of Alberta, Dalhousie University, the Geological Survey of Canada, MDA and Optech.
For more information visit www.spacecentre.ca or www.space.gc.ca.
The conquest of space has been a dream of humans for centuries. Only in the last five decades however, have we had the technology to explore the cosmos. Until recently, this technology has been limited to only a few countries, including the United States, which leads the world. Lately though, Canada, too, has been gaining a foothold in space science.
Canadian scientists and engineers have made a series of important contributions to space missions, like Radarsat, the robotic Canadarms for the space shuttle and the International Space Station, and the MOST space telescope, just to name a few. Now, under the auspices of its own space agency, Canada is partnering with other countries to help explore the Red Planet. In its latest project, the Canadian Space Agency (CSA) is collaborating with NASA on its next Mars lander, called Phoenix, scheduled for launch in 2007. Hopes are high that the Canadian maple leaf will soon be seen on Mars.
As the Mars Program lead at CSA, Dr. Alain Berinstain (pictured above) acts as the link between the scientific community and research and development teams in government and industry. He is also responsible for science missions that explore the planets (including Mars), Mars-analog sites on Earth, and astronomy missions. Berinstain has a Bachelor's degree in chemistry and biochemistry and a doctorate in chemistry, specializing in the effects of radiation on biological systems. As adjunct professor at University of Guelph, he also conducts research into environmental controls systems for greenhouses in extreme environments. We interviewed him via telephone last week.
http://sciencecareers.sciencemag.org/career_development/previous_issues/
articles/3360/a_maple_leaf_on_mars_interview_with_canada_s_mars_exploration_lead/(parent)/158